DEE'S HAIR SALON
by Dee
Formerly from St. Paul, Dee has operated a four-station salon for nine years. She sold to Donna Anderson and moved to Elk Point shortly after.
Dee worked for Virginia's Hairport for a few months but felt there was a need for another shop in Elk Point so she opened one on March 10, 1977 in the old Co-op building across from the Arrow theatre.
Dee has had a couple of girls apprenticing from the school in St. Paul, for a few months, She now has Lorna Joly who formerly worked with her in St. Paul. They have worked together for many years and do the same type of styling. Lorna also specializes in men's styling and is a very artistic hairdresser. The shop is open for appointments Monday through Friday, also half a day Saturday. We also do ear-piercing, facials, manicures, eyebrow arching, etc.
We enjoy our clientele and cater to a large area around Elk Point. We hope in the future to expand the business as the town grows.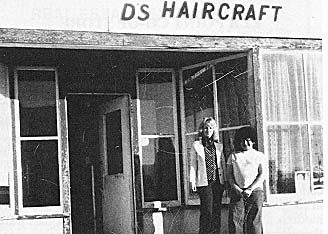 Dee Joly, owner, and Lorna Joly