ELK POINT 4-H BEEF CLUB
by R. Flanders
The 4-H was organized in Elk Point in 1965, with Ray Hellquist as leader. He was succeeded by Albert Boratynec for two years, George Pinder for one year, Don Pinder for two years, Ronald Flanders for three years, and Clifford Swedgan, presently in his second year.
The Elk Point club averages between fifteen and twenty members each year. Age requirements: seniors 14 to 21, juniors 10 to 13. Aim: Through proper care and feeding to produce the Grand Champion. Achievement Day is held in late May or early June. Originally it was held in the old skating rink; now it is in the Agri-Centre.
Trophies are awarded for Grand Champion, Reserve Champion, Showmanship, Grooming, Weight Gain, and Bookkeeping. The trophies are donated by local businessmen and private individuals.
The regional show and sale is held in St. Paul in early June, with five clubs competing: St. Paul, St. Brides, St. Lina, Heinsberg and Elk Point. Approximately 140 calves are entered. The average price per pound at this sale has set a record for the province for several years, thanks to the hard-working auctioneers and the generous support of local businessmen and the general public.
Membership of juniors in the Elk Point Club has increased in the past three years until it was necessary to have a double set of trophies.
4-H Club Pledge:
I Pledge
My Head to clearer thinking,
My Heart to greater loyalty,
My Hands to larger service, and
My Health to better living, for my Club, my Community, and my Country.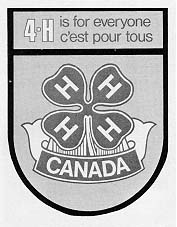 4-H CREST. These were made with peel-off adhesive backs and
used by members on note books ere. for decoration and publicity.