M AND J CLOTHING 1977
M and J Clothing opened their doors for business March 14, 1977. The store is stocked with clothing for the entire family. We are open six days a week from nine to six. Lois Sharek is manager.
M and J Clothing came into being when Mike and Joyce Nychyporuk purchased the Ballas Variety Clothing and Gift Wares store situated on Main Street in Elk Point.
Mike and Joyce also own and operate the M and M store in Heinsburg.
WOLANUK'S FASHIONS AND FOOD LTD. 1977
by Diane Wolanuk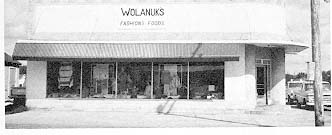 In May of 1976 the keys to the building soon to be called Wolanuk's Fashions and Foods Ltd. were handed over to us and we were on our way to being owners of a retail store in Elk Point. By January of 1977 we had eight months and one Christmas shopping rush behind us. The following year kept us busy meeting the needs of our customers. Steve and I managed to run the store ourselves as both our children, Duane and Joanne, were in school, but during holiday times we had high school students part-time. One of these, Maureen Stewart, was hired as a result of the F. G. Miller High School work experience program.
Steve had five years of banking plus many hours in his last job doing accounts payable and I had worked in a store even while in high school and the years following that, so we felt with the help of our accountant and some suggestions from our customers we could maintain a proper business. We increased our stock both in groceries and dry goods plus opened up a larger shoe and boot department to better serve the need of Elk Point's growing community and trading area.
Our grocery turnover increased as people began to realize we now carried a larger stock to supply them. We found that our store served the needs of people of all ages with a full line in our children, teens, ladies, mens, material and notion departments. G.W.G., Stanfields, Don Parker Slacks, Elite Blouses, Surrey Classics, Knickerbockers, Mary Maxim, Coats, Greb and Kaufman, are some of the brand names our store handles.
Dianne and Steve Wolanuk beside their stack of new spring clothing.
Our unspoken pledge was to give sincere, old-fashioned personal service to all our customers to show our appreciation for their business. By December 31, 1977, we had learned much more about the retail business. We hope that, as always, if our customers are satisfied at our store they will tell their friends, and if NOT that they will please tell us! With the news of more oil development. in this area we hope we can look forward to many years of prosperous business and our retirement days in Elk Point.