by Steve Andrishak
Originally constructed in 1931 as a dance hall by Mr. Eric Arnott, the business was taken over in June 1945 by the present owner, S. Andrishak. It was used as a combination dance hall and theatre until 1950.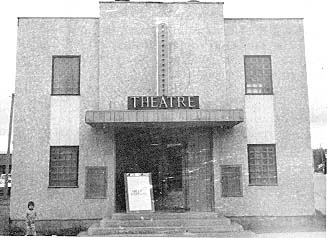 Steve Andrishak's ARROW Theatre.
In 1950 the dance floor was taken out and replaced with a sloped cement floor and permanent installed seats for better viewing. Modern 35 M.M. projectors were installed in 1952 which enabled the theatre to show modern and newer film.
During the past thirty-four years the theatre has pretty well relied on family help with the exception of a number of students hired part-time.
Many interesting changes in movies have taken place since 1945, not all for the better, such as Restricted Adult movies-profane language allowed which at one time was unheard of, and the death of the good old western movies - I am hopeful the trend will reverse itself and good old family movies will again rule the theatre screen.
A man shows his character by what he laughs at.