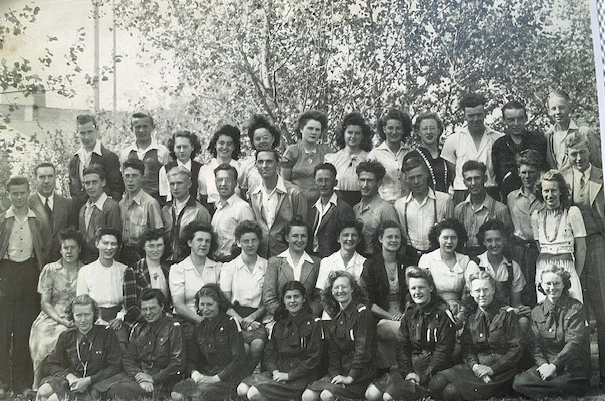 Grade 10, 11, and 12 (1st Year) 1945/46
Back Row: Clarence Boos, John Yaryna, Grace Miller, Vera Jurak, Stella Yewchin, Ina Cheshire, Olga Yewchin, Alma Roman, Margaret Hobden, Leslie Young, Nick Wysocki, Roy Johnson
Middle Row Boys: Andrew Borutski, Mr Beattie, Vern Rayham, Arthur Vaughn, Roy Lambright, Alan Arnold, Jack Wiegerinck, Eugene Dembicki, Richard Miller, Glen Young, Ingrit Stetsko, James Rylance and Mr Jacobson.
Middle Row Girls: Minnie Kadutski, Betty Payne, Dorothy Wolfe, Bernice Andirliviseus, Doris Hall, Olga Miketiuk, Ivy Ross, Avis Smith, Patricia Hunt, Jean Andishak and Phyllis Aarbo.
Front Row: Mary Loftus, Joyce Babcock, Margaret Holliday, Phyllis Smith, Daisy Keck, Gertrude (Trudy) Keck, Marion Johnson and Susan Johnson.