TRANSPORTATION AND ROADS
by Muriel Holthe
Today we have many choices of transportation that are comfortable, convenient, luxurious and fast, be it jet, bus or car.
Most centres now have easy access to one or more paved roads, and there is a network of these, in fact 6,516 miles as of March 31,1974, in our affluent province of Alberta. The old fur trader route, namely the Fort Pitt trail, was extensively used by missionaries and traders and later in 1874 by the N.W.M.P. and still remained the main artery when settlers arrived here.
The following excerpt is from Know Alberta: "The trails were deeply rutted, having been cut by the heavily laden wagons and carts pulled by oxen or horses or a combination of the two. The trails followed no set survey pattern, but took the easiest route over whatever kind of terrain was ahead.
Some of these trails, or parts of them, became main roads. On a more regular basis, however, roads were laid out by surveyors according to sections. These road allowances were for public travel, and built and supported by government money grants and public taxes. This survey system was precise and efficient as measurements of distances and directions were easily given in miles.
It meant, however, that many a team of horses had to follow the prescribed route of turning right angle corners, instead of making shortcuts, using their animal instinct. Before all the land was homesteaded, there were many short cuts across open sections, where the horses hooves raised the dust along the well beaten trails."
Oxen were used by a few of the early settlers in the Elk Point area. Horses were much more manageable, reliable and faster. Tribute should be paid to the horse, those noble beasts, for the part they played in the opening up of this frontier. John Trotwood Moore in a tribute to the horse wrote: "Wherever man has left his footprint in the long ascent from barbarism to civilization, we will find the hoof-print of the horse beside it." The horses pulled the breaking plow to turn the virgin soil and supplied the power in all cultivation endeavors, to the harvesting finale until grain was marketed at the nearest outlet. It is extremely fitting that power is measured in terms of horsepower.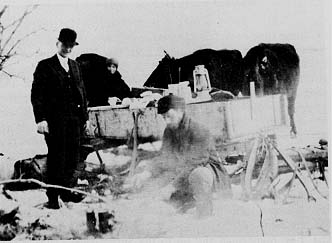 Tom Aarbo cooking dinner half way to Vermilion.
He was escorting the honeymoon couple Bert and Borghild Anderson, by oxen, to catch the train, 1909.
Alec Duncan freighting for Hopkin's store, 1910.
In summertime, wagons, buggies and democrats were used for transportation. Fancy high-top buggies were around before the motor car. Again it was a high-spirited driving horse adorned with a brass studded driving harness that provided the locomotion. These outfits were the pride and joy of their owners and there was much competition to own the best. The bob sleighs and cutters made the winter scene. Here again, it was the ambition of every young man to own a fast well matched team with fine harness and sleigh bells. There was a wide diversification of tone in bells and owners could be identified from a considerable distance by their sleigh bells. When driving conditions for all conventional vehicles were bad, one could always manage by riding horse back and this our own Dr. F.G. Miller would resort to on many occasions, to carry out urgent country calls.
Pictures of Early Transportation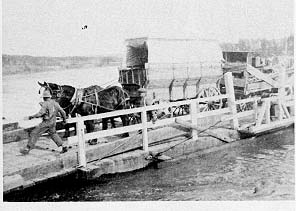 C Flanders family moving to Elk Point in 1926,
using grain tank as covered wagon.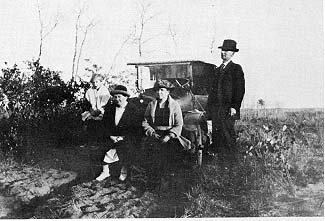 Out for a joyride
LEFT TO RIGHT: Mary Fish, Mrs. Hood and C harlie Hood standing.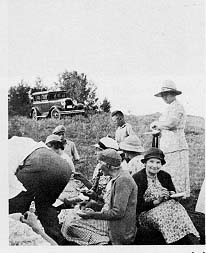 Ladies Aid picnic 1935. Mrs. S. Marshall standing,
Mrs J. B. Caskey facing camera, 1930 car in background.
Caskey family going to church in a democrat and team.