ELK POINT INSURANCE AND REALTY LTD.
Paul Stepa began his career in the insurance business in January of 1956, when he opened an office for general insurance in a small building located where the Macleods store presently stands. Shortly thereafter he built and moved to a new office located next to Tredgers' Drug Store.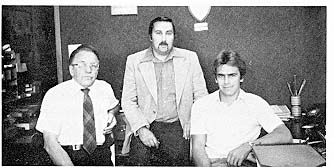 Paul Stepa, Larry Demchuk, Victor Stepa.
Initially, business was slow but it progressed steadily. In 1967 Paul moved his operations to a larger office that he had built next to the Toronto Dominion Bank.
The insurance business proved a worthwhile venture over the years and in January of 1976, Paul, along with his son-in-law, Larry Demchuk, formed Elk Point Insurance and Realty Ltd. Services offered by the company included a full range of general insurance and real estate. Larry and Paul also act as motor vehicle license issuers.
Business continued to improve and in November of 1977, Paul's only son, Victor, returned to Elk Point, to become the third member of the company.
The company's secretarial and bookkeeping duties are currently handled by (Mrs.) Elaine Bjorkman, who has been with the firm since 1974.