THE BARTLING ORCHESTRA
by B. Sumpton
The first recognized orchestra in Elk Point was composed of August Bartling, Roy Maine and his wife from 1916-1918, until Roy's wife died in the flu epidemic. Roy sold his violin to August and moved back to North Dakota. By that time Augie's brother Bill was playing guitar, and his brother Ervin, known as "Rosie" also was playing the violin. They played for dances at halls and homes and barndances until 1928 when Rosie moved back to the U.S.A.
Augie then started a new orchestra made up of Mrs. Bill Chester of Stoney Lake on piano, August Anderson of Angle Lake who played violin, and Vernon Newlove, a teacher at Angle Lake who played the trumpet. This combination was a fair old time music band, playing together for several years until Mrs. Chester moved away with her family. More changes. Bill Hobden who played violin joined the group, also Bert Hobden, who played the drums. Vernon Newlove was still with the band playing trumpet. This orchestra continued for quite a time until Bill married and moved to Edmonton. Augie then played with the Howe Orchestra for some time, before starting one of his own with John Maxwell playing the accordian, Leo Edwards, guitar, Colon Beswick, banjo. John Maxwell was working for Ed Caskey in a service station when he caught his hand in an air compressor belt, losing two fingers, thus ending his career in the band. Augie Bartling and his sister Minnie Boos who played piano teamed up with four boys from St. Paul: Robert Poitras, who played saxophone, Adolph Bogard who played drums; Julian Bartling who played the banjo. This was an excellent old time as well as modern band, playing mostly at the Spring Park Hall, built on the lakeshore. Robert was killed in a truck accident and the orchestra folded up. The next and last orchestra consisted primarily of young people. Lloyd Bartling, Augie's son played saxophone; Bob McQuillan, the piano accordion; Clarence Boos Jr. on drums; George Smith played guitar, and if there was a piano at the hall where they played, Minnie Boos was pianist. In all the orchestras, Augie played the violin. The second world war disbanded the last band. Lloyd Bartling joined the air force and the other members became scattered. After the war, Minnie Boos and son Clarence, George Smith and Augie organized an orchestra. In June 1950, Aguie went to work for the Canadian Salt Co. doing shift work and had to give up playing as he worked nights every other week.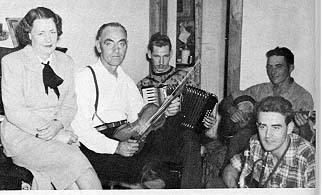 BARTLING ORCHESTRA
LEFT TO RIGHT: Minnie Boos, August Bartling, Clarence Boos Jr., George Smith, Lloyd Bartling, about 1949.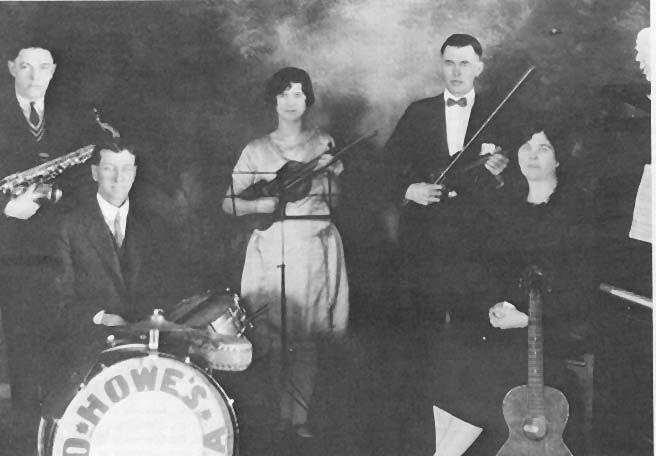 THE HOWE ORCHESTRA
LEFT TO RIGHT: Robert Poitras, Ole Howe, Mary Brunelle, Arthur Carey, Glara Howe. 1926.
When the 0. Howe family came to Alberta they settled in St. Paul since Mr. Howe, being a well driller, found work there.
Mrs. Howe, who was a very good musician, gave music lessons and played the piano at the local theatre, since in those days the moving pictures were all silent. Through music they met a talented violinist, Mr. Prefontaine, who from time to time enjoyed making music with the Howes. Mr. Howe bought a set of drums and the three musicians would play together, mostly for enjoyment.
The family moved to the Elk Point district in 1927 where they continued to make music for parties and get-togethers. When Lyle, the oldest son, was thirteen years of age he began to play the violin.
In 1931 Mr. Eric Arnott built a hall in Elk Point, which was used for dances, parties, and travelling movies. Dances were held in the hall quite frequently and soon the Howe Orchestra, Mr. and Mrs. Howe and son Lyle, were playing for these dances. Sometimes a friend, Emile Anderson, would play the guitar with the Howes. When son Ivan became old enough he learned to play the drums and took his turn with the others. The Howe Orchestra continued to play music together until the boys left home to be on their own.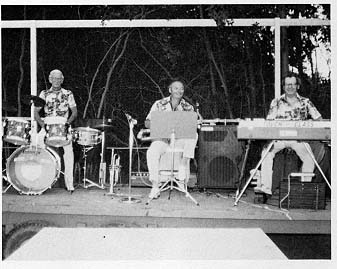 "TOUCH OF CLASS" 1977
Ron Barwick, George Parrot, Leo Lambert