ALBERTA LIQUOR STORE ELK POINT
by Joseph Turzanski
Roland Michaud became manager of the Elk Point Liquor Store on July 28, 1975, after serving eighteen years with the Alberta Liquor Control Board in St. Paul as a clerk and later as assistant manager. He is married and has four children.
Joseph Turzanski commenced as clerk on September 16,1974, after transferring from Sherwood Park. He is married with two children.
The liquor store serves an area of about fifteen miles in all directions. We sell a number of both banquet and resale permits for weddings and other social activities. We have operating hours of 10:00 a.m. to 6:00 p.m. and are open six days a week.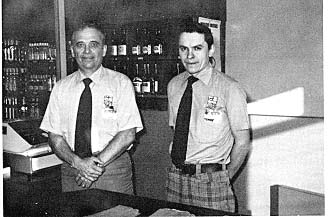 LEFT TO RIGHT: The Staff of the Alberta Liquor Store, Roland Michaud, manager; and Joseph Turzanski