LADIES' HOCKEY
by Cindy Mudryk
Ladies Hockey started in 1975. Its original purpose was to give ladies an opportunity to take part in a sport and have a bit of fun. The team eventually began scheduling games with out of town teams such as St. Paul, Glendon, Vermilion, and Dewberry.
The 1977 coach was Joe Turzanski. The secretary and treasurer was Wendy Yaremkevich. Our team captain was Lynn Symbaluk. The team members were: Diane Turzanski, Lynn Symbaluk, Roxie Berg, Donna Butner, Pat Lesyk, Doris Gancer, Brenda Jenkins, Vivian Jenkins, Karen Poitras, Franci Quinney, Heather Radies, Wendy Yaremkevich, Cindy Mudryk,
We had practices every Wednesday night from 7:00 p.m. till 8:00 p.m. There was approximately one game every two weeks. We didn't manage to win any games but we all enjoyed playing very much.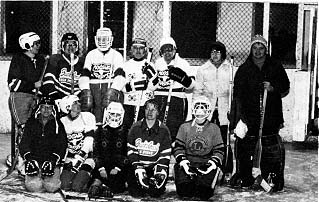 Ladies get into the act.
BACK ROW, Left to Right: Lillian Demchuk, Connie Capjack, Diane Wolanuk, Dee Joly, Adeline Bugera, Stella Lorenson.
FRONT ROW: Margaret Zacharuk, Joan Palamarek, Sharon Smith, Carol Hellquist, Karen Poitras.