ELK POINT HOTEL OPENS NEW ADDITION APRIL 26, 1977
Jim and Duane Young have come a long way since they first took over the Elk Point Hotel on October 31, 1972, from previous owner Steve Joly. They remodelled the interior of the hotel at that time and are now in the final stage of an extensive expansion process.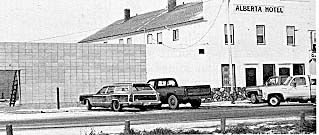 Elk Point Hotel showing new addition.
The Young brothers did not stop with the Elk Point Hotel. In April of 1974 they bought the York Hotel in Lac La Biche, and one year later also acquired the Parkland Motel in that town. An extensive remodelling program is now in the works for the York Hotel. Duane and his wife Linda are responsible for the Lac La Biche operation.
Jim and his wife Vickie operate the Elk Point Hotel with the able assistance of Mrs. Young Sr., Jim's mother, and Elizabeth Khol, formerly of Victoria, B.C.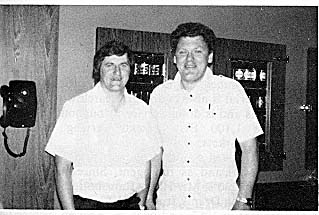 Duane and Jim Young, owners of the Elk Point Hotel at the opening of their new bar.
The Elk Point Hotel was first built in 1927 and was known as the Alberta Hotel until purchased by the Young brothers, some seven owners later. Recreation activities were incorporated into the tavern in 1972-namely a pool table and shuffleboard. A stage was also built to accommodate musicians.
In 1977 Jim and Duane began an extensive building and interior renovating program. With the help of Rich Reinhart's engineering expertise, an addition was built to accommodate a dance floor, walk-in cooler, a grill, cocktail bar, a much larger games corner which will house two pool tables, a football machine, and a computer tennis table, and a greatly enlarged tavern area.
The new tavern is beautifully color co-ordinated in red, black and gold. A cedar wall on the east side displays 132 brands - a tribute to area farmers. The seating capacity is now roughly 180, up from the previous 106. Upon its completion, patrons will be able to enjoy dancing, dine on a steak from the steak pit, or sip a popular lounge drink from the new cocktail bar. The brothers' next step in Elk Point will focus on renovating the hotel cafe and lobby area.
As Jim and Duane celebrate their Grand Opening April 26 through 29, we extend congratulations and commend their initiative. We hope that the community will truly appreciate their endeavors on our behalf.
Since becoming a part of the Elk Point business community, Jim and Duane have been willing and generous supporters of all types of sports and organizations. The community can now return this support by demonstrating its appreciation of a job well done.
"Name your poison!" Vickie Young in front of the bar in the ELK POINT HOTEL.
ELK POINT MOTEL
The Elk Point Motel, located on the northeast side of Elk Point, was built in spring of 1962 by Peter Andrishak. It was sold to Bob Rae in July of 1965. In February 1974, Jim Young Sr. and sons Jim and Duane Young became proprietors of the Elk Point Motel, which has four suites.
As well as looking after the motel, Jim Sr. worked at his general store in Lindbergh until by misfortune it burned down on November 6, 1976. His wife Melvina Young, as well as working at the Elk Point Hotel, helps her husband at the motel.