ELK POINT BRANCH RED CROSS
by Margaret Modin
The details recorded here are by no means complete, we regret this, but there is a period of time for which we have not been able to find records. According to the records received from the Canadian Red Cross Society -N.W.T. Division head office, the Elk Point Branch was issued its Charter on November 10, 1939. The officers at that time were president, Dr. F.G. Miller; vice-president-Mrs. Hutter; honorary secretary-Mrs. Charlie Hood; hon. treas.-Mrs. E.L. Arnott; executive committee - Mr. Hutter; Mrs. McDonell and Miss S. Hutter.
These were war years and the activities of the group centered around knitting for the servicemen as well as organizing Blood Donor Clinics and there is some evidence that even in those years some canvassing was done. Names such as Stewart, Soldan, Raham, McDonell, Mrs. L. Edwards, Mr. Ham, Mrs. Robertson, Mrs. Van Arnam, Mrs. Howe, Mrs. McMillan, Lawrence and Bea Sumpton, Mrs. (Babcock) Dyrvik, Nettie Flanders, Kitty Garneau, Joe Jacobson appear in various reports received from people talked to and I'm sure there were many others who were connected with the branch in those early years. We have, since those days, had to let the Blood Donor Clinic go due to high incidence of hepatitis in the area, and the high cost of blood procurement. We instead encourage people to take advantage of other clinics being held in the immediate area.
Communication with Joe Jacobson indicates that in about 1947 the same people were acting on the executive of such groups as St. John Ambulance, Scouting and Guiding, Cancer Society, and Red Cross. The decision to amalgamate all the activities under the Elk Point and District Community Association (Welfare Assoc.) was made, and carried out until 1953, when minutes indicate that a visit was paid to the group by Mr. Doyle, Assistant Provincial Commissioner, who explained that a Red Cross branch must operate on its own and thus the branch began meeting once a month for the business of Red Cross. At this time Mrs. Adam was president; Alixe Miller was secretary and Joe Tredger, treasurer. On November 10, 1954, an annual meeting was held and Doris Weigerinck became president; Mrs. Adam, vice-president; Helen Kovach, secretary; and Mrs. Van Arnarn became treasurer. From that time until now a regular annual meeting has been held each year. Many names appear of those who have served on the executives, among them (Mrs.) Steffie Dyrda; (Mrs.) Louise Eaton; (Mrs.) Jessie Keck; (Mrs.) F. McDonell; Dr. A. Weigerinck; (Mrs.) B.A. Holliday; (Mrs.) Lena Stepa; (Mrs.) Dorothy (Buzzy) Pelechosky; (Mrs.) Irene Magusson; (Mrs.) Marion Quin; Doris Weigerinck; Mrs. Van Arnam; Mrs. Adam; (Mrs.) Velma Andrishak; (Mrs.) Sophie Mulak; (Mrs.) Helen Kovach; (Mrs.) Peggy Adomaitis; (Mrs.) Nikki Reimer; (Mrs.) Violet McFadyen; (Mrs.) Audrey Lorenson; (Mrs.) Anne Buck; (Mrs.) Irene Frisby; (Mrs.) Margaret Modin; (Mrs.) Nancy Heinemann; (Mrs.) Estella Young; (Mrs.) Janaky Srinivasan and many, many others have been the faithful workers for the Red Cross over the years.
The Elk Point Branch has participated not only in Blood Clinics and campaigns, but also supports the Water Safety Program (sponsored by the Elk Point and District Regional Red Cross) both with students and money raised at an annual Tea and Bake and Bazaar Sale at the end of April. Up till now this event has taken place at Zarowny's Garage and the branch has appreciated this contribution by them since it has involved disruption of their freedom for one afternoon. The ladies are involved in knitting, sewing and quilting for the Alberta/N.W.T. Division to be used in various parts of the world for relief work.
In 1953, Dr. Weigerinck saw what an advantage an area Red Cross organization could be in coordinating a number of activities from Elk Point east to the Saskatchewan border and she set about getting it going. The first chairman of this group was Mrs. Adam (wife of the United Church minister in Elk Point) Alixe Miller was the first secretary. It was composed of two Charter branches, one at Elk Point and one at Lindbergh, and representation from Heinsburg, Tulliby Lake, Dewberry, Clandonald and Marwayne. Dr. Weigerinck was appointed regional chairman by headquarters in 1956 and continued in that capacity until 1958 when Margaret Modin was appointed chairman, a position she still holds. Other executive members have been Mrs. Palyer (secretary); Mrs. Gene McDonell (treasurer); Mrs. Buck Eaton (Women's work); Mrs. Harry Keck (Clothing Depot), (This was something which operated only within this community to serve the needs of local folk); Mrs. Rushfeldt (Women's Work); Helen Kovach (secretary); Phyllis Saranchuk (treasurer); Iryne Buck (secretary); Irene Magnusson (secretary); Nikki Reimer (treasurer); Iryne Buck and Nikki Reimer have filled their position now since 1963, a much appreciated contribution. The two vice-chairman are the chairman of the Elk Point and Lindbergh branches. The regional organization originally held three meetings a year, one at each of Heinsburg, Lindbergh and Elk Point alternately; however, at present a fall meeting is held in Elk Point and a spring one at Lindbergh Salt Plant. We are indebted to the Salt Plant for supplying both labor and material in the construction of the first pier.
The main thrust of the regional organization is the campaign in March and Water Safety in July when up to 250 students are taught by Red Cross trained instructors in the art of swimming and water safety. Swimming lessons began in 1956 when Doris Weigerinck went down to Whitney Lake for two weeks and for board and room and whatever donations people gave her, taught the first group of students. She continued to teach in 1958 and 1960. Quite a number of people have given of themselves to keep the program going since that time. Among them are Ray Hellquist, Karen Buck, Bob Smith, Dean Stults, Ronnie Sheplawy, Daniel Zarowny, Bob Keller, Janice Andrishak, Doreen Sheplawy, Marsha Lorenson, Bernard Maddox, Cathy Nelson, Anne Nelson, ? Michealjon, Kerry Mcllvery, Lila and Laverne Wilson, Rocky Sharkey, Terry Rae, Pat Pynten and Kathy Hines. Several of these people taught for two, three, four and more years. We are now able to pay wages comparable to those paid elsewhere in the province thanks to the generous support of all the communities involved. The campaign has been organized under the direction of a campaign chairman for the total region helped by a campaign captain for the town of Elk Point. We find these names recorded as those who have served in the capacity of campaign chairman: Margaret Modin, Phyllis Saranchuk, Anne Buck, Lena Stepa, Dorothy (Buzzy) Pelechosky, Wasy Elaschuk, Rodah Lorenson and Alvina Schubmacher.
Women's Work has been co-ordinated by Louise Eaton, Nellie Rushfeldt, Sophie Mulak, Anne Buck, and Estella Young. In recent years Lindbergh has had its own Women's Work convenor for convenience sake. Some efforts have been made on behalf of families to locate lost relatives in other parts of the world and to return citizens to this country from Communist countries.
Long service is recognized by the presentation of service badges on behalf of the Alberta/N.W.T. Division and a goodly number of people have been honoured in this respect, among them - and probably the first to receive their badge of service was Mrs. Selmar Barstad and Mrs. Wm. Smith (mother of Bob). Later presentations were made to Phyllis Saranchuk, Irene Frisby, Florence Lorenson, Mary Ann Sheplawy, Vera Fakeley, Nancy Heinemann, Iryne Buck, Wasy Elaschuk, Rodah Lorenson, Myrtle Butner and Hazel Hoard, all of Lindbergh. Elk Point recipients include Florence McDonell, L.R. Edwards, Margaret Bartling, Helen Kovach, Margaret Modin, Dr. A. Weigerinck, Dorothy (Buzzy) Pelechosky, Kitty Dewey, Kitty Garneau, Nellie Rushfeldt, Nettie Flanders, Elsie (Babcock) Dyrvik, Irene Magnusson, Audrey Lorenson, Anne Buck, Nikki Reimer, Lena Stepa, Velma Andrishak, Violet McFadyen, Florence Lindquist and a number of teachers (who are presented directly from provincial headquarters and so we have no record of them all). One badge of service which stands out in my mind is the one presented to Mr. E. Stanley of Clandonald for fifty years of service to Red Cross . . . quite a record!
It is a satisfying way to serve our fellow man and those of us who are members now (and this includes a young lady of fourteen) encourage you to join us.
Doris Weigerinck, Water Safety Instructor at the Swim Program held at Whitney Lake, July 1956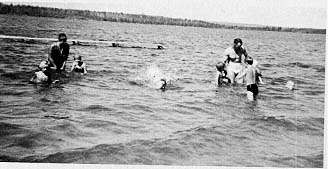 Doris Weigerinck and Bob Smith, with a class of beginner swimmers, 1956