THE CATHOLIC COMMUNITY OF ELK POINT
by Rev. W.P. Fitzgerald (written in 1977)
Webster's dictionary describes history as "a systematic account of events related to some nation, institution, art or science with a philosophical explanation of their causes."
In the light of such a definition this article will certainly not qualify as history. It is not intended as such. It is neither systematic nor philosophical, but simply a few recollections of the nine happy months I spent as pastor of St. Michael's Parish, the Catholic community at Elk Point.
A parish is made up of individuals and it is through the inter-relationships of persons that the Holy Spirit finds his way into our lives. The spirit of any parish depends on the friendly, cooperative relationships that exist among its members. It is on this natural foundation that God builds the spiritual edifice that we call a parish.
Elk Point has never been a predominantly Catholic centre, but there has always been within the area a small group of people prepared to do whatever was necessary to preserve their heritage and their faith. I shall try to recount some of the names that spring to mind, and this at the risk of omitting some who may have escaped my memory in the thirty-five years since I was part of the Elk Point scene.
In this age of mobility and urbanization (1977), it is quite possible that some of the people mentioned here may not be known to the current population of Elk Point, but in their time they made a significant contribution to the Christian spirit of the district by bearing witness to their beliefs.
It was in April, 1942, that I arrived to serve as the pastor of St. Michael's Parish. It was my first and only appointment as a pastor, but the nine months I spent in Elk Point were among the happiest and most rewarding days of my life. What the parish lacked in numbers was atoned for by a spirit of loyalty that has remained in my memory all these years.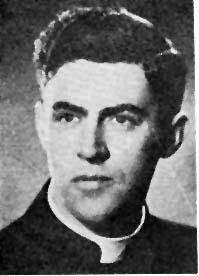 Father Fitzgerald
Among the stalwart supporters of the parish were Mr. Keller, Sr., their daughters Beth (Mrs. Hardy Lawrence)and Nellie (Mrs. Auburn Kepke), Josie (Mrs. Calvin Laughlin)and their two sons, Bill and Charlie.
There were the O'Kanes, the McHughs, the Spencer family, the Keitges and the Jacobsons. Margaret Jacobson (Mrs. Augie Bartling) whose husband taught me the fine art of fly-fishing, is now living in Edmonton. Last summer I had the pleasure of attending the 50th anniversary of their wedding.
I remember Mr. Hutter the station agent, whose Jewish wife played the organ at our church services, and Gene McDonell, the elevator man, who was the mainstay of the choir. His wife, who was of another faith,always left her front door and her fridge unlocked just in case I should run out of groceries. She made it known that I was free to come in and help myself anytime, day or night.
By comparison with Alberta's current reputation for prosperity, those were difficult days. I had an unofficial "charge account" at Andrishak's Store. They had shelves well stocked with groceries and hearts filled with compassion. Somehow the monthly bill never arrived. Olga Andrishak, (Mrs. Max Fischer) saw to that. It was their way of contributing to the parish.
My other means of survival was to do a lot of visiting, particularly around meal time. I always felt welcome whether I really was or not. If that ruse failed, it was back to the frying pan with potatoes, turnips and a fried egg or whatever else was on hand courtesy of Andrishak's wonderful store.
I well remember the afternoon when Mrs. Graham, a member of the United Church, dropped in unexpectedly at the rectory with an unusual request: "I wonder if I could borrow your frying pan? She was the druggist's wife and I wondered why she couldn't buy one for herself. Somewhat dismayed I gave her my precious frying pan with the reminder that I would need it for supper. She disappeared-and so did my frying pan. She never did bring it back, but she returned later in the day with a casserole and the admonition that if I wanted to stay healthy I should use it instead of a frying pan. If Mrs. Graham happens to read this, I want her to know that I am still in good health thanks to her concern and her casserole.
All this may contribute little to history, but hopefully, it will help to show the spirit of good will in the community of Elk Point which at that time numbered about 300 persons.
Any history that I may be able to supply will of necessity be limited to the years previous to my term of office.
In the 1920's Father Louis Connoir served Elk Point from Fort Kent. Father Connoir was the first diocesan priest to graduate from St. Joseph's Seminary in Edmonton. He was ordained in 1920, two years after the seminary was opened as a diocesan institution. Since there was no Catholic Church in Elk Point he said Mass in private homes and administered the sacraments as the need arose.
In 1931 Father Kennedy MacLean was appointed as the first resident pastor of Elk Point. He was a diocesan priest who had worked as a carpenter before beginning his studies for the priesthood. His first undertaking was to build a parish church and St. Michael's church remains today as a reminder of his zeal and service to the community.
He was followed by Father Syd Stewart and Father Vince Curtis both of whom are now deceased; then by Father Morgan Johnson who is now working in Nelson Diocese, British Columbia. These men kept the parish alive through the hungry 30's when mere survival was considered an accomplishment.
It was in April or May, 1942, that I arrived in Elk Point, a few short weeks after my ordination to the priesthood. It was a time when people all across the nation were wondering if the depression was really over. The depression had tested their faith in humanity itself, but now there was a ray of hope for better days ahead.
After a while in the parish I arrived at the conclusion that St. Michael's needed some morale-building project to revive its spirit. The most obvious undertaking was to provide a set of pews to replace the benches that had been installed in the church by Father MacLean.
Money was still scarce, but lumber was reasonably cheap. Somehow I got my hands on some prime fir and had it deposited in the farmyard of Mr. Keller. I closed up the rectory and moved out to the Keller home for six weeks of sawing, gluing and nailing under the watchful eye of Mr. Keller, a joiner by trade. By Christmas the job was finished. The glorious new pews were loaded onto the O'Kane hayrack and a team of horses piloted by two O'Kane boys pulled the load to the church in time for Midnight Mass. The church was filled to overflowing. Not only were the new pews filled, but even the choir loft was packed for the occasion. Christmas carols filled the air. The new pews seemed to have fulfilled their purpose.The pews were, in my mind, just the beginning of greater things to come. I was completely caught up in the work of rebuilding the Catholic parish of Elk Point, but my hopes were dashed to the ground. Within three days a voice on the telephone informed me that I was appointed to the staff of St. Joseph's High School in Edmonton. It was to be a temporary appointment which would allow me to go back to Elk Point to carry on my work. But the "temporary" thing lasted some thirty years until my retirement from teaching in 1973.
Two years ago I returned to Elk Point for the first time, since 1942. I wanted to renew old aquaintances, but I found that most of my friends were gone. Even Mrs. Wysocki, who had cared for my altar linens was not at home that day.
The other reason for my visit was that I wanted to see the inside of the church again. Both the church and rectory were locked --- a sign of the times and the current shortage of priests. What I really wanted most was to see if the glue had stuck or if the squeaks in my hand-tailored pews were competing with the organ in the choir loft. Some day I shall go back again to Elk Point to see the only tangible fruits of my one and only experience as a pastor.