Some of Elk Point and areas first businesses were stopping houses which evolved into todays hotel and motels.
MOTELS
by A. Warren
El Rancho Motel was built by Peter Andrishak in 1962, on the east side of the highway, north of town. It was sold to Bob and George Rae in 1966, and renamed the Elk Point Motel. The Raes sold it to Young Bros. Holdings early in 1973.
Fort George Motel, designed by architect Gary Andrishak, was built by Joe Bender in 1974, at the north end of town, west of the highway.
El Rancho Motel, built 1962.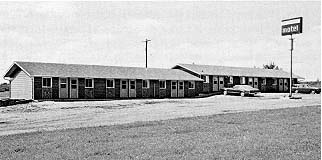 Fort George Motel, constructed 1974