ELK POINT UNITED CHURCH WOMEN
'WOMEN IN THE CHURCH'
by Marion Tredger
In the early days of this community, even before there was a minister or church, the women formed a women's group and met in their homes. The early settlers from 1907 - 1915 were concerned about maintaining a religious communication for their families. Some of these women -Mrs. Jessie Lambright, Mr. C. Hood, Mrs. 0. Fish, Mrs. T. Aarbo, Mrs. C. Markstad, Mrs. C.D. Smith and Mrs. G. Shortridge formed the first Ladies Aid group. After 1915 when ministers started to travel in this area, they made sure there was a place for a church service, food, and a place for the minister to stay.
Mrs Charles Hood, early president of the Ladies Aid.
These women and those who came later - such as Mrs. Caskey, (Mrs.) S. Vaughan, Mrs. F.G. Miller, Mrs. C.A. Johnson and Mrs. James Millar - worked hard for and in the church they had so that their families would benefit. The first resident minister was here in 1918. Money was raised to pay expenses and the minister's salary, to build and keep in repair what church building they had. However it was not all work but also a time for social get-togethers - a time to visit with their neighbors -- to chat and exchange ideas and plan for the future of their homes, church and community. Meetings were held in the members homes. Before the days of many cars it was horse and buggy or walk, sometimes as far as two miles.
By the forties the Ladies Aid was a strong force in the little church on the hill. They were the janitors, cleaning and painting the church and keeping it in trphotos When money was needed, they were there. They held another tea or supper. Sarah Vaughan walked into town for many of the meetings -Mrs. Caskey loaned the use of her dining room in the hotel
for the teas or suppers. Mrs. C.A. Johnson and Mrs. F.G. Miller canvassed the countryside for chickens for fall suppers. Everyone responded! And those chicken suppers! - Adults 75 cents - children over 6 - 50 cents - preschoolers free - and all you could eat! On sports days, besides the usual, there was always the special treat of homemade icecream.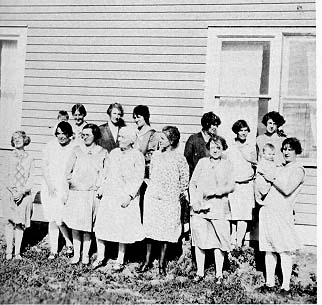 WOMEN'S UNITED CHURCH GROUP ABOUT 1929
BACK ROW, Left to Right: Mrs. Reg. Smith with baby daughter, Mrs.J.L. Millar, Mrs. Frank Pinder, Mrs. A.G. Ross, Mrs. Van Arnam, Mrs. Joe Quin.
FRONT ROW: Mrs. Bill Duncan, ?, Mrs. Oscar Holthe, Mrs.Suter, Mrs. E.G. Miller, Mrs. Leo Babcock, Miss Ella Pinder holding sister Lura Belle.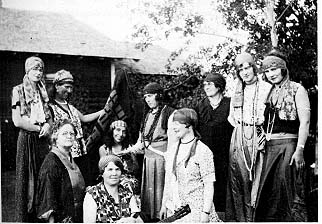 WOMEN'S INSTITUTE GYPSY TEA ABOUT 1930.
BACK ROW Left to Right Mrs Markstad Mrs Chester Mrs. Hutter, Mrs Holthe Miss Jean Arnott Mrs McQuillan.
FRONT ROW: Mrs. Bullis Mrs Howe Miss Holter.
Later on, teas and bazaars were held in the old Co-op store and suppers in the Legion Hall basement. The men were cajoled into not only setting up tables, but first bringing the saw horses and boards which were loaned by Dave Nelson from Beaver Lumber yard. Hot water was brought in cream cans - thanks to Bill Milholland. Dishes, what few we had,
were stored in the church basement, and brought to wherever needed. The remainder came from the members homes -dishes, cutlery, cooking pots, dishtowels, tablecloths (sheets), and whatever else was needed. These days, when people are apt to complain about making a pan of squares or a salad -think of this: For one person - two pies (always two pies), and salad and potatoes, or vegetable or homemade buns or one of the extras. As well, some had to somehow find time and room to cook the meat - all donated.
For many years the women of the United Church had the only group who would or could cater to any banquet or reception in the town. As the town grew, the size of and need for banquets grew as well. It was a great relief when the Elks built a large hall and the members of the Royal Purple took over food preparation and serving for some of these celebrations.
Catering was not the church women's only work. Once a week some of them went to the hospital to help with the sewing. The manse was their responsibility and they always tried to have it 'homey' for the minister's wife. In later years money has been raised through the sale of rummage. Articles are also available without charge to any who are in need or who may have lost their possessions in a fire. Most of the women also taught Sunday School, sang in the choir and served on the church board. Mrs. F.G. Miller was church organist for many years; Mrs. C.A. Johnson was one of the early choir leaders. Mrs. Johnson also had the honor of being one of the first delegates to Presbytery.
THE LADIES AID ABOUT 1930.
BACK ROW, Left to Right: Mrs. C.A. Johnson, Mrs.]. Chester, Mrs. 0. Holthe, Mrs. L. Sumpton with Doris Markstad,
Mrs. C. Markstad, Mrs. H. McQuillan, Mrs.]. Fitzsimmons, Mrs.]. Quin, Miss Ella Pin der, ?, Mrs. A.G. Ross.
FRONT ROW: Mrs. 0. Howe, Mrs. Suter Snr., Mrs. D. Nelson, Mrs. R. Smith, Mrs. F. Van Arnam,
Mrs. J. Millar, Mrs. E.G. Miller, Evelyn McQuillan, Bob McQuillan, Lura Belle Pinder.
However it was not all hard work. Meetings were held in the afternoons. Pre-schoolers came along and I can not remember their being any great problem. In fact under the secretary's table was the favorite spot for one or two little ones to play with their tiny cars until lunch was served. And what lunches! Husbands had scant suppers on those days. Meetings always opened with a short worship service and after the business was dispensed with, time was spent on Bible study, Mission study, discussing social needs of the day or perhaps learning a new skill - as when Dr. Weigerinck told about growing and caring for African Violets.
In the spring and summer picnics with families and friends were held at the surrounding lakes or other convenient and beautiful rural spots.
In 1950 the Ladies Aid became a member of the Women's Assocation and the Women's Missionary Society of the National United Church of Canada. There was very little done in the W.M.S. and the group was known as the Elk Point Women's Association. In 1953 Mrs. Wellwood Adam was asked to be a vice-president of the W.A. Presbytery for this area.
In 1962, upon the re-organization of the women's groups at the national level, the Women's Association and the Women's Missionary Society became the 'United Church Women'. The Elk Point United Church Women is in the district of the St. Paul Presbyterial. Marion Tredger was the first area vice-president for all the groups north of the river up to Lac La Biche and Cold Lake, and from Two Hills to this area. In the years 1966 and 1967 she was president of the Presbyterial U.C.W.. As well as the area north of the river, the Presbyterial took in the local U.C.W. groups from Lloydminster to Vegreville, and south to Wainwright and across to Tofield. This meant a broadening of interests for the local groups as meeting were often held here; new friends were made and ideas shared.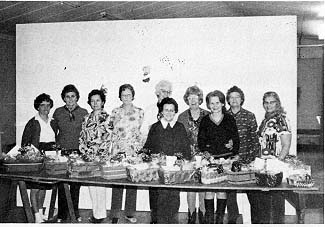 The United Church Women preparing Christmas friendship baskets in the Church Hall, 1973.
LEFT TO RIGHT: Grace Pinder, Audrey Lorenson, Lena Stepa, Bea Williams,
Ila Borowsky, Anne Buck, Bea Sumpton, Helen Petrosky, Murial Holthe, Buzzy Pelechosky.
It is impossible to list the names of all who have been a part of this group over the years, but we are thankful for what they did or are doing. These are some of the officers chosen from the records available.
The first official records found were for the year 1945:
President - Mrs. C.A. Johnson
Vice-President - Mrs. Wilson
Secretary - Mrs. C. Markstad
Treasurer - Mrs. R. Beattie
In 1950 when we became the W.A., the officers were
President - Mrs. R.J. Tredger
Vice-President - Mrs. A. Raham
Secretary - (Mrs.) Ida Robertson
Treasurer - Mrs. Paul Petrosky
In 1962 when the U.C.W. came into being,
President - Mrs. R.J. Tredger
Vice-President - Mrs. K.C. Miller
Secretary - Mrs. C. Willmer
Treasurer - Mrs. Frank Johnston
From being an isolated group of women working in their own area, the women's groups of the United Church in Elk Point grew in members, interest and areas of concern. Local needs still require a lot of time and money, but assistance has been and is given to other projects -- close at hand and a-round the world Places like Camp Whitney, Jellenick House, the 'Crosby' boats on the West coast projects in Africa, Brazil, India and all over the world are given our help.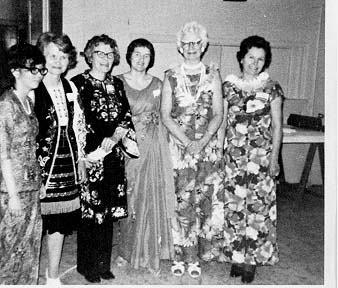 PRESBYTERIAL RALLY ABOUT 1974
LEFT TO RIGHT: Irene Wong, Helen Petrosky Mrs. Maire, Donna Buck,
Ila Borowsky, Lena Stepa, wearing costumes of countries about which they spoke.
We have come a long way. We needed and appreciated the vision and courage of those early women, the help from many in our community, who one way or another over the years have assisted us in our work. I believe there is still a place in our church for women with vision to help bring about a better way of life for families in our community and in the world