LADIES' SOFT BALL
by L.W. Sumpton
I don't have too much to report on Ladies' Soft Ball, as information is sketchy and it, too, covers quite a period of time, and is more or less interlocked with the high school girls. Some of these players were really talented and, had they been men, could quite conceivably have gone a long way in soft ball. These girls weren't afraid of getting their hands dirty, their nails broken, or their curls ruffled.
Follows a list, from brains picked for information from various sources: (Mrs.) Florence McDonell, (Mrs.) Bea Sumpton, Katie Kowalchuk, Betha Holowaychuk, Josephine Beauregard, Annie Andrishak, Lucy Hannaford, Margaret
Ferguson, Selma Jepson and Florence Johnson. This would be about 1930. Sorry if I missed anyone.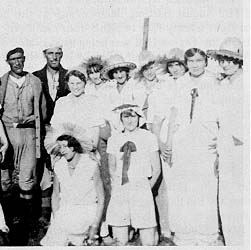 Elk Point girls softball team at Cold Lake, about 1930.
Josephine Bartling has just come up with a gold mine-a picture of the Elk Point Ladies' Soft Ball team taken at Cold Lake about 1930 (our girls in white). How many can you identify?
This squad knocked off all comers with regularity. They were good. Fan support was fantastic. It was a toss-up which drew the most enthusiastic response-the girls' or the men 5 baseball. Unfortunately, one had to choose which to watch as both games would be played simultaneously.
Nothing much can be dug up between this era and about 1948. I allowed myself to be talked into coaching a ladies' team about this time. I must say that I rather enjoyed the experience. You see, the big difference between coaching girls and men is the fact that the girls were so enthusiastic and would to their best to do exactly as they were told. Sadly, this was not always the case with boys and men.
I hope to be permitted to lapse into a bit of nostalgia. (Isn't that what this is all about?) Strange as it may seem, there was only one game that sticks in my mind, and that was a game in St. Paul about 1948. This was not on their regular diamond. It was played on the east side of town, with a fair sprinkling of willow bushes in the deep outfield. Our team were short a player and drafted my daughter Joan from high school to fill in. She would have been about fourteen and would rather play ball than eat.
The set up was-umpire behind the pitcher, first base umpire at first base, partisan St. Paul fans, also first base umpire.
As the game progressed, I noticed the first base umpire coaching their girls as well as umpiring. Well, of course, I didn't stand for that. I stopped the game long enough to ask him is he umpiring or coaching. Answer, "Both". We got that settled right away.
So the game went on, and we arrived at the classical example of the underdog coming from behind. Last inning, two out, bases loaded, score - Elk Point two down. Also full count on the batter-Joan Sumpton in her blue jeans. The St. Paul fans were frantic; Elk Point not too happy. The fans along the first base line were needling our Joan with taunts such as "look at the little country bumpkin in her overalls". She must have heard them, because she swung on the next ball pitched right from the heels, connected squarely, and they didn't find that ball until the next day. Of course, the St. Paul players and fans invoked a non-existent ground rule, such as "only two bases on a lost ball". So we said "O.K. We have three runs in without the home run. Game over."
It occurs to me that these accounts of athletic prowess have Elk Point as the underdog and invariably coming out on top (exception-Marwayne tournament). I can only explain that most people (myself included) find it easier, and more convenient, to remember the triumphs rather than the defeats.
No doubt the local athletes still have fun, and I am happy for them. I know that we sure did.