LIVERY BARNS AND TIE YARDS
by Martin Aarbo
Livery barns and tie yards were a necessary service in the early days. Settlers coming to town long distances with loads of grain or produce had to stay over night and return home the next day. If you brought your own hay and oats, the charge was about a dollar a night.
The first livery barns in Elk Point were Plante's and J.B. Caskey's.
After Plante's hotel burned, Plante's livery barn closed down. Caskeys operated their livery barn and dray service until after the railroad came to Elk Point in 1927.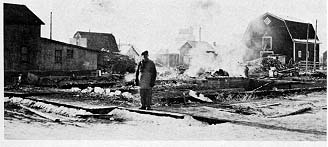 Caskey's livery barn behind the smoking remains of C.A. Johnson's Store 1940.
In the early thirties, John Libich built and operated a livery barn back of where the Imperial Lumber Co. now stands.
Mr. Libich operated this livery barn until the early forties, when cars and trucks took over transportation.
Elk Point also had a town tie and feed yard south of where Prusak's blacksmith shop now stands.
Most business men also had hitching racks behind their stores as a service for their customers. In the spring, these hitching racks would be built up with snow and manure until the horses would be nearly standing on their heads.
First store in Elk Point belonging to Selmar and Martin Johnson. Note hitching rack in front.