STUDENTS' UNION
by Ila Borowsky
The Students' Union was organized in 1941 by Principal R.E. Beattie and Clifford Hackett, who taught Grades X, XI and XII. This was in the two-room school which presently is used as the U.C.W. Rummage Store.
A council was formed, consisting of a president, vice-president, secretary-treasurer, and room representatives.
Teachers were members of the union and attended all meetings. The principal gave final approval to all decisions made by the council. Dues were $1.00 a person.
The union was formed for the purpose of training students in parliamentary procedure, organizing social and athletic activities, and raising money. Money was raised by holding yearly winter carnivals, where skaters from the Glenora Club in Edmonton performed. Later, yearly Amateur Nights were the main source of income. Dances were held in a hall which was located where Habiak's garage now stands. Music was supplied by a high school orchestra consisting of Lloyd Bartling on the saxophone, Bob McQuillan on the accordion, and Robert Lambright on the violin. These were closed dances, for the students only. School parties were also arranged. Picnics were held every June at Lake Whitney.
A portion of the money raised was used to buy the first movie machine for the school, "The Movie Mite".
Grade XI for many years was responsible for the arrangement of the graduation banquet and for the decoration of the gymnasium for the dance. The first banquets were held in the old Legion Hall, later in the United Church Hall. For many years, due to lack of space, only graduands, parents and teachers attended. Later graduands were allowed to invite escorts.
Elk Point High School Emblem
About 1950, to give students who came home for Christmas holidays some form of social activity, Mr. Beattie introduced Alumni dances.
In 1957 the Constitution was revised. Orest Capjack became first president. The budget was estimated at about $500.00. Dues were now $1.50.
In the late 60's teachers were not members nor did they attend meetings. Mr. Uniat became student advisor and was the only teacher present. The function of the union changed. They made their own decisions. The budget rose to between $6,000 and $7,000. Dues were $2.50. Expenses had increased. The school was reorganized from inter-school to provincial in sports. The union had to pay fees to the North-Eastern Alberta Association, also provincial and league fees. There was football and basketball.
Money was raised by raffles, selling peanuts, dances and dinners.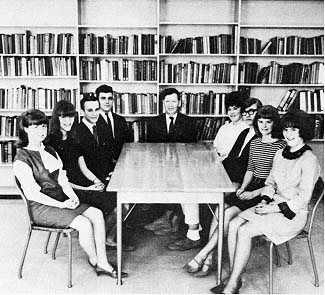 STUDENT UNION EXECUTIVE 1967
LEFT TO RIGHT: Valerie Loewen, Barbara Miller, Leonard Demchuk, Walter Ference,
Mr. H. Uniat - Faculty Advisor, Gladys Capjack, Gary Elaschuk, Diane Warren, Brenda Pankiw.