THE TORONTO-DOMINION BANK 1977 ELK POINT, ALBERTA
by A.E. Montalbetti
RIGHT TO LEFT: Toronto Dominion Bank, Elk Point Insurance and Realty, Jean's Cafe.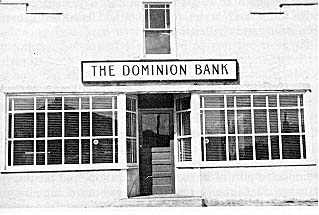 Previous Bank, later Mary Pawlyk Cafe, 1947
During 1977, Mr. Henry Jacobson was transferred to Coronation, Alberta and Mr. Art Montalbetti replaced him as manager. Staff-wise one member was transferred and one resigned to further her education. Present staff
consists of A. E. Montalbetti, Manager; (Mrs.) Viola Yarmuch, Personal Loan Officer; Miss Elaine McEwen, Administration Officer; (Mrs.) Chris Merrick, Accounting Officer; (Mrs.) Connie Capjack, (Mrs.) Vicki Stepa, and (Mrs.) Laverne deKergommeaux, Tellers; and (Mrs.) Lena Kryvenchuk, Clerk Typist.
Towards the end of 1977 we were successful in extending our Friday hours and are now open from 10:00 to 6:00. An extensive renovation program is planned for 1978 for both the exterior and the interior of the office.
TORONTO DOMINION BANK STAFF 1977
Leverne deKergommeaux, Lorraine Danyluk,Viola Yarmuch,
Connie Capjack, Vicki Stepa, Chris Merrick,
Art Montalbetti, Cathy McLennan, Elaine McEwen MISSING: Lena Kryvenchuk