THE UKRAINIAN CATHOLIC PARISH OF ELK POINT
by Paul Lesyk and Peter Boyko
The Ukrainian Catholic Parish of Holy Eucharist at Elk Point, Alberta was established about 1935. In this year the Ukrainian Catholic priest Rev. Father Ambrose Wynnyk OSBM from Mundare, Alta. came here and met with twelve Ukrainian families. These were Wasyl Yakymec, Wasyl Andrishak, John Libich, Wasyl Soldon, Nick Sakowsky, Kost Pawlyk, Paul Stepa, Harry Faryna, Wasyl Wysocki, Mike Kowaichyk, Paul Gusnowski and Joseph Gusnowski. With these families Rev. Fr. A. Wynnyk OSBM started the church services in the Roman Catholic Church in town. During the next fourteen years the church services were held by priests from the Basilian Fathers' Monastery at Mundare, Alberta, -Rev. Fathers Kohut, Pasichnyk and Shydan.
In 1949 a priest came from the Ukraine, Rev. Fr. Michael Hawryluk. He became parish priest of Glendon, Alta., and also travelled to Elk Point. He initiated the idea of building our own church. This idea was accepted enthusiastically by the Church Committee under the guidance of the chairman Paul Lesyk with the members Anton Zazulak, Kost Pawlyk, Mike Nykyforuk and Dmytro Hucal. Paul Lesyk, Peter Kozicki and Kost Pawlyk went to the Roman Catholic Bishop Bodouaux in St. Paul, Alta., and asked him to sell a place close to the Roman Catholic Church for the building of our church. The deal was made and we became the owners of our church lots for the payment of $300.00.
The building of the church was started in 1949 under the supervision of the church contractor Walter Gulka from St. Paul. In August 1949 there was a solemn consecration of the corner-stone by Most Rev. Bishop Neil Savaryn from Edmonton and a Pontifical St. Liturgy (Mass) with the assistance of the neighboring clergy. The choir of Derwent sang the Mass.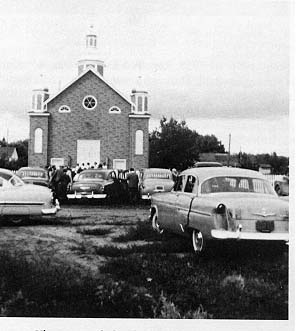 Ukrainian Catbolic Church, constructed 1949
The next priest who served our parish was Rev. Michael Gural, parish priest of Glendon. Then on February 25, 1954, Rev. J. Cherkawsky, parish priest of Derwent, Alta. was appointed by Most Rev. Bishop Neil Savaryn as priest to our church. He is still serving us. Under his direction the choir and solosits of the parishioners performed a concert in March 1955 in honor of Taras Shewchenko a great poet of Ukraine.
On August 3, 1969, our church, including the main altar, was dedicated by Most Rev. Bishop Neil Savaryn assisted by other priests. Solemn Pontifical St. Liturgy (Mass) was conducted with the assistance of the choir from Derwent under the direction of Rev. J. Cherkawsky. After the church ceremonies there was a banquet in the Elks Hall.
Now our parish is in good standing with 75 members. Through the years we have had many dedicated men and women who made the best efforts to support the church with spiritual and material help. They include the late Marie Lesyk, wife of Paul; late Marie Ference, wife of John; late Joseph Musiyowski; and now acting Marie Krawchuk, wife of Peter; and Pete Boyko. Other much appreciated former members of the Church Committee are Nick Pelech, John Ference, Nick Kozicki, Andy Zazulak, Harry Prusak, Bill Bespalko and especially Kost Pawlyk. The members of our Church Committee for the year of 1976 are as follows: Pete Boyko, chairman; W. Ference, deputy chairman; J. Wozniak, secretary; and H. Krawchuk, treasurer. Auditors: H. Prusak and W. Boyko. At this time we would like to express our thankful appreciation to Harry Krawchuk for his excellent work as treasurer during more than fifteen years.
1954 Confirmation Class, Fr. Cherkawsky.
Our church services (High Mass) are served on the 3rd Sunday of the month. The officiating priest is Rev. J. Cherkawsky and the director of the choir is Harry Gulajec.
Elk Point, Alberta December 21st 1976.
MEMBERS OF THE UKRAINIAN CATHOLIC CHURCH NORTHERN VALLEY HONORING THE PIONEERS, DEC. 2, 1951
BACK ROW, Left to Right: Harry Ste tsko, Peter Hnybida, Rev. J. Gberkawsky, Mike Ewasiuk, Casper Zarowny, Mike Zarowny, Peter Kozicki
THIRD ROW: P. Shymkiw, Metro Topilka, Mrs. E. Chubey, Mrs. C. Faryna, Mrs. Bay roch, Mrs. Mike Palinka, Mrs. J. Ruzycki, Mr. W. Kadutski, Mrs. Sam Yewchin.
SECOND ROW: Mrs. Peter Kozicki, Mrs. Yaremkevich, Mrs. Mike Zarowny, Mrs. Wm. Moneta,
Mrs. Mary Stetsko, Mrs. Metro Yewchin Mrs Peter Hnybida.
FRONT ROW: Mr. Alex Zarowny, Mr. Fred Maksymec Mr. Andy Bugera.
The walls were raised on the Greek Orthodox Church, 1952