THE FAMILY HISTORY OF HARRY AND MARY PRUSAK
by Helen Grykuliak (Nee Prusak)
My parents, Mr. and Mrs. Harry Prusak came to Elk Point in December, 1940, after residing in the Waskatenau area for six years. My father, Harry Prusak, was born in the Ukraine on February 2, 1904, and emigrated to Canada with his parents John and Tillie Prusak in 1912.
My mother, Mary Prusak (nee Sawchuk) was born in Waskatenau, Alberta, on March 12, 1912, where she spent all her early years with her seven brothers and three sisters.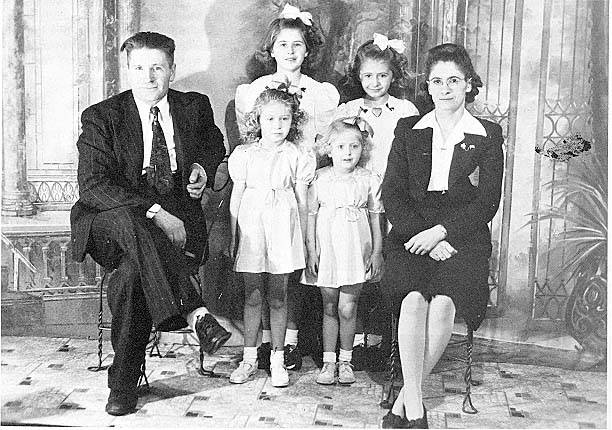 Harry and Mary Prusak with their daughters.
BACK ROW, Left to Right Helen and Rose
FRONT ROW Lillian and Ruby, 1945
Dad and mother were married November 2, 1933, and decided to farm in the Waskatenau area near their parents. While living on the farm they had three daughters, Helen, Rose and Lillian. Times were hard, farm pricing low and as Dad was always interested in buying a business, he purchased property in Elk Point from Kost Pawlyk which at that time was a mill and a small house. We moved to Elk Point with all our personal belongings, some chickens and a cow. Dad worked at the mill all winter but as there was not enough income from this source to support a family of three girls, that summer he built a small building and opened a blacksmith shop with the equipment he brought from the
farm. These first few months in Elk Point were very clear in my mind as our only language was Ukrainian and we had difficulty conversing with our friends. Rose vowed that she would not learn the English language but that idea soon changed. That first fall the fourth daughter, Ruby, was born which completed our family.
Dad continued to operate the mill and blacksmith shop but was forced to sell the mill equipment and eventually dismantle the building due to his poor health. Now that this sole source of income was to be from blacksmithing the building was expanded, and larger and better equipment was purchased from a shop that had gone out of business at Lindbergh. Eventually as business progressed a welder was purchased and as a licence was required Dad had to attend Vocational School in Edmonton to obtain one. This was quite a challenge as Dad could read English but could not write well enough to write the final exam so this was accomplished by an oral test.
Mother was always good at sewing and made all the clothes for her four girls and also started taking some sewing to help with the family income. When all the girls were in school Mother decided to seek outside employment. Although she had no previous experience, mother got a job at the Co-op store and commenced employment in 1948 at a salary of $48.00 per month. She worked until 1960. After a few months rest she worked at Warren's Food Liner for another eight years.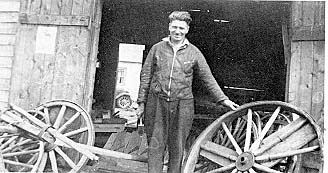 Harry Prusak at his blacksmith shop, 1945
All the girls completed their education in Elk Point and hold fond memories of these days as they were active in community student clubs and always participated in school sports. We are all married. Helen is Mrs. John Grykuliak, Rose is Mrs. Donald Johnson, Lillian is Mrs. Les Groeneveld and Ruby is Mrs. Ted Yarmuch, and we have a total of eleven offspring.
Harry and Mary Prusak continue to be active as members of the Ukrainian Catholic Church and although they are now retired, always have their home and hearts open to their friends and family.